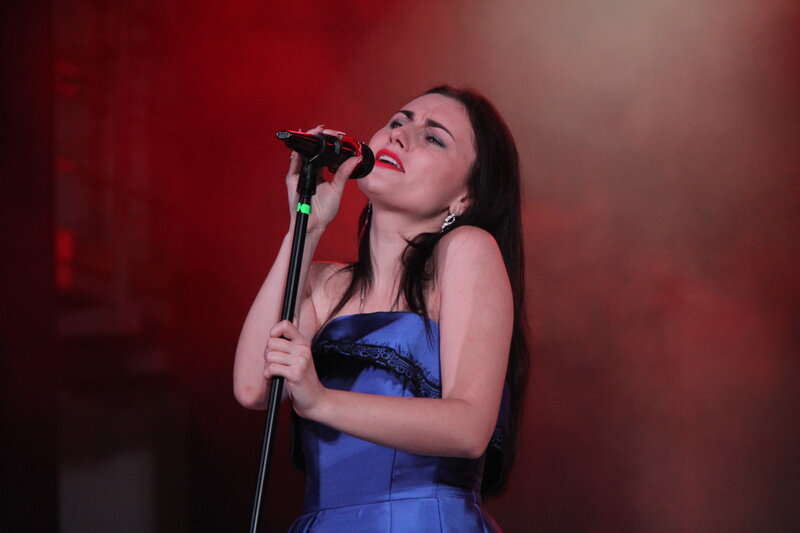 Halyna Shevchuk — is a Ukrainian singer (soprano), stage name Grechna (ukr. Ґречна, pol. Grzeczna) was born on May 24 in Boryslav, Lviv region, where she spent her childhood and youth years. Having a naturally beautiful voice, she would often sing in amateur concerts. She was a soloist of the "Lemkivska Studenka" choir and the Bandurist ensamble "Rosinka".
She graduated from the Bandura Music School, Drohobych Vasyl Barvinsky Musical College in the vocal class Lydia Khorob, Ternopil Volodymyr Hnatiuk National Pedagogical University in the vocal class of People's Artist of Ukraine Natalia Lemishka.
She took private vocal lessons from the People's Artist Volodimir Ignatenko. She has been refining her vocal skills in Austria (Wien) with the People's Artist of Ukraine, the soloist of the Vienna Opera, Victoria Loukianetz.
Winner and laureate of international and regional song competitions and festivals, including the Lemkivska Vatra Culture Festival, the International Festival of Music Culture Sacrum - Profanum, the International Vocalist Competition Rivne Vocal Premiere named after Y. Kulchynskyi, the II International Legion Song Festival, the M. Kopnin Young Vocalists Competition, the festival of Young Galicia, the international festival-competition "Star Parade", the international festival "Ukrainian Christmas", the international festival "Golden Time Hollywood", the festival-competition "Fairy Talents", the festival-competition "Winged by the Song", Ukrainian vocal competition "Unforgettable Kacey Cisyk" and others.
Russia's invasion of Ukraine in 2022 forced the singer to evacuate to Poland.
Creativity and Repertoire
There are arias of operas, operettas, romances of composers of different eras, compositions of liturgical music, Ukrainian folk and songs that other composers created, compositions in the style of Classical Сrossover in 15 foreign languages in her repertoire.
In December 2018, she made her debut in Ternopil as a soloist of the Galician Municipal Chamber Orchestra under the guidance of maestro Vasyl Felenchak. In 2019-2020 years, soloist of the "Czeremszyna Z Ukrainy" band which actively toured the cities of Poland.
In 2021, the singer's debut single "The Mystery of Love" was released.
In 2022, the singer's EP album "Amore nella fede" with works of classical music by the Italian composer Bartolomeo Cosenza, EP album "Wonder in the hat", singles Ave Maria (in Georgian) and Ave Maria (in Aramaic) was released.
In January 2023, participated in the concert tour "Noworoczna Gala Operetkowa" in Poland, which was organized by AgencjaBrussa agency and the Kyiv National Academic Operetta's Theatre.
During the quarantine related to COVID-19, she started the #GrechnaAtHome project in which she tries to lift the mood of her listeners and improve their emotional state with songs performed live.
Halyna Shevchuk has performed works by Giuseppe Verdi, Giacomo Puccini, Antonio Vivaldi, Wolfgang Amadeus Mozart, Ludwig van Beethoven, Antonin Dvorzhak, Sergiy Rachmaninov, Wilhelm Friedemann Bach, Edward Grieg, Cesar Franck, Bartolomeo Cosenza, Marco Frisina, Vasil Barvinsky, Mykola Lysenko, Ostap Nyzhankivsky, Semen Hulak-Artemovsky, Mikhail Verikivsky, Anatoly Vakhnyanin, Peter Tchaikovsky, Mykola Stetsun.
Creativity Collaboration
- Italian composer Bartolomeo Cosenza;
- Italian composer Marco Beretta;
- Ukrainian poet Volodymyr Karagodin;
- Ukrainian composer and arranger Ihor Vashchyshyn;
- Ukrainian arranger Andrii Tkach;
- Ukrainian composer Lubomyr Pasichnyk;
- Egyptian violin man Wael Anwar.